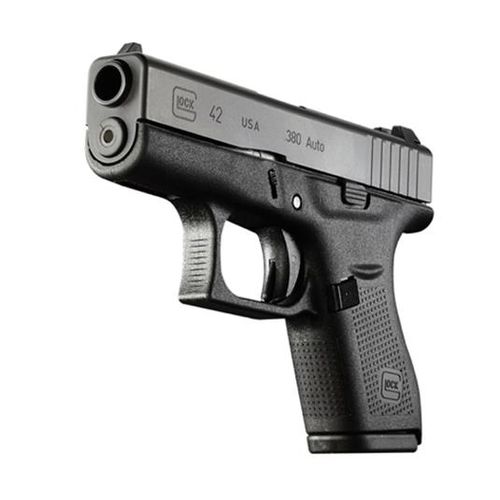 Glock handguns are amongst the most popular the world, particularly within the realm of compact and subcompact handguns. Known for their high capacity magazines, easy operation, accuracy, ruggedness, and patented internal safety mechanism, Glock has provided law enforcement, military, and concealed carry licensees with a variety of powerful options for years
Based upon multiple requests across a variety of markets, Glock has introduced the model 42, a subcompact .380 AUTO handgun that is a great option for shooters with small hands and/or concealed carry licensees who are looking for a sleek pocket-carry pistol still capable of packing enough of a needed punch.
Glock 42 Magazine
G42 magazines are still made of the same high-impact polymer as their predecessors, and still retain the visible round counter on the backside of the magazine. However, Glock decided to forgo the double stacking concept in the Glock 42 in order to further reduce the size and weight of the weapon. The result is a single stack magazine that holds 6 powerful .380 AUTO rounds.
Glock 42 Conceal to Carry
While the G42 marries the best attributes of Glock handguns with ultra conceal-ability, it may prove to be quite small for shooters with larger hands. The good news is that this may be mitigated with grip extensions, such as the Pierce magazine grip extension for the G42. The G42 magazine extension simply fits onto the end of the magazine, adding extra length for a more comfortable grip.
As with other Glock models, further customization can easily be made. A variety of aftermarket options exist, such as lasers and night sights, and a user can easily add whatever is necessary for the PG-42 Grip Extension most comfortable fit. With its slim design, extremely small size, powerful rounds, ability for customization, and reasonable price, the G42 stands to be the go-to concealed carry handgun for licensees nationwide.